2006 – today. Systematic Success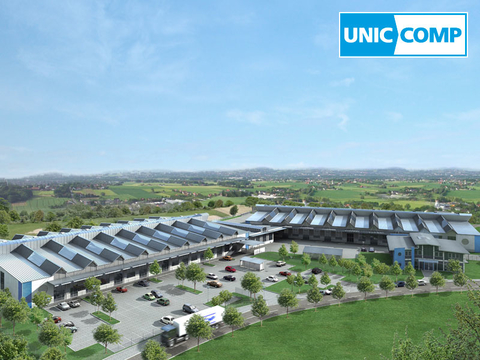 2006
UNICCOMP Expands.
In 2006, the second factory of UNICCOMP was built in Geretsried, Germany.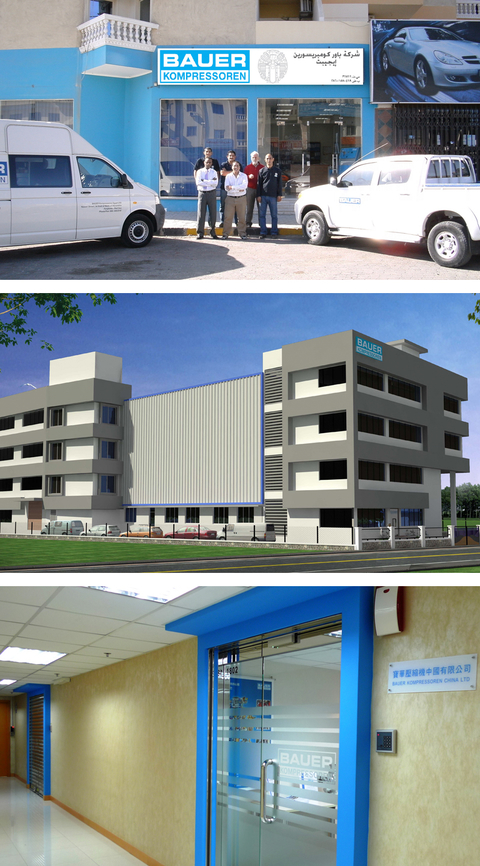 2008
Foundation of BAUER KOMPRESSOREN Egypt, BAUER KOMPRESSOREN India and BAUER KOMPRESSOREN Shanghai.
BAUER KOMPRESSOREN Egypt Ltd. (BKE) was established in 2008. It is responsible for the sales, distribution and service of BAUER equipment, together with accessories and spare parts, for diving and industrial facilities in Egypt.

BAUER KOMPRESSOREN India Pvt. Ltd. is a fully owned subsidiary of BAUER COMP Holding GmbH, Munich, Germany, and was incorporated in December 2008. The company is located in the historical & industrial city of Pune in western Maharashtra and is engaged in the sales, service, overhauling and local manufacturing / packaging of BAUER products.

BAUER KOMPRESSOREN China's first office was established in Hong Kong in 2002. Operations were expanded in 2008 with the opening of a further office – BAUER KOMPRESSOREN Shanghai Ltd. – in Shanghai.
ADNOC – BAUER's biggest project.
Totaling over 80 million EUR, this project was initiated by the Executive Council l Nahyan under the leadership of H. H. Sheikh Khalifa bin Zayed.

We were awarded with installing 50 x CNG refueling stations for Abu Dhabi National Oil Company (ADNOC) and it is the biggest project in our history.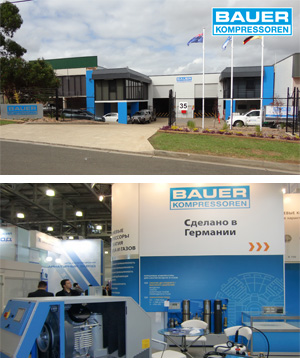 2010
Venturing out to Australia and Russia.
BAUER KOMPRESSOREN based in Sydney, NSW was founded in 2010 as the Australian subsidiary of BAUER Group Holding.

BAUER KOMPRESSOREN Russia based in Moscow, was founded in 2010 as the fully owned subsidiary of BAUER COMP Holding, Munich, Germany.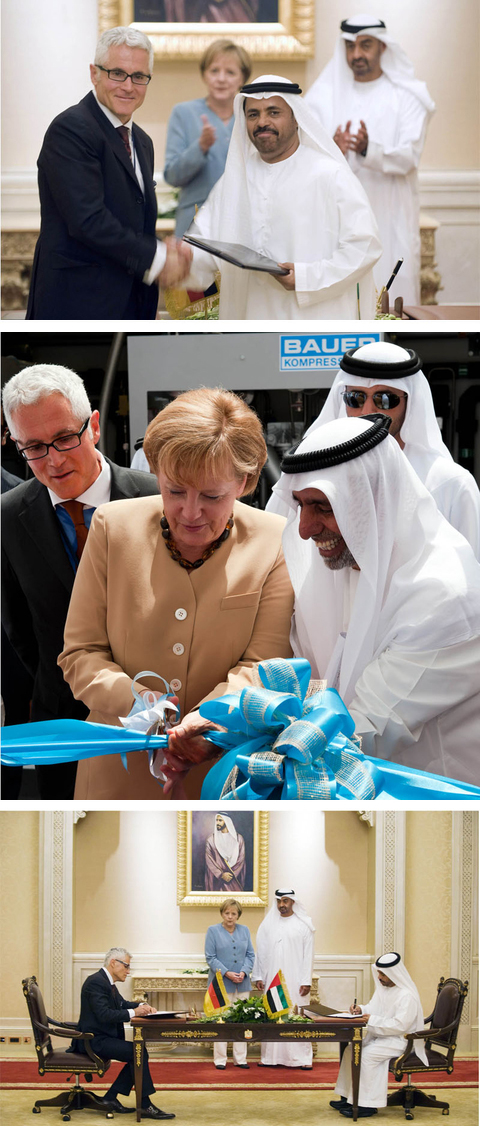 2010
German Chancellor Dr. Angela Merkel at the opening of our Natural Gas Filling Station in Abu Dhabi.
German Chancellor Dr. Merkel officiated the first natural gas filling station we built in cooperation with Abu Dhabi National Oil Company (ADNOC) in Khalifa City.

At this event, BAUER KOMPRESSOREN and ADNOC signet additional contracts to deliver more stations in a double-digit volume with the presence of Sheikh Mohammed and the German Chancellor Dr. Merkel.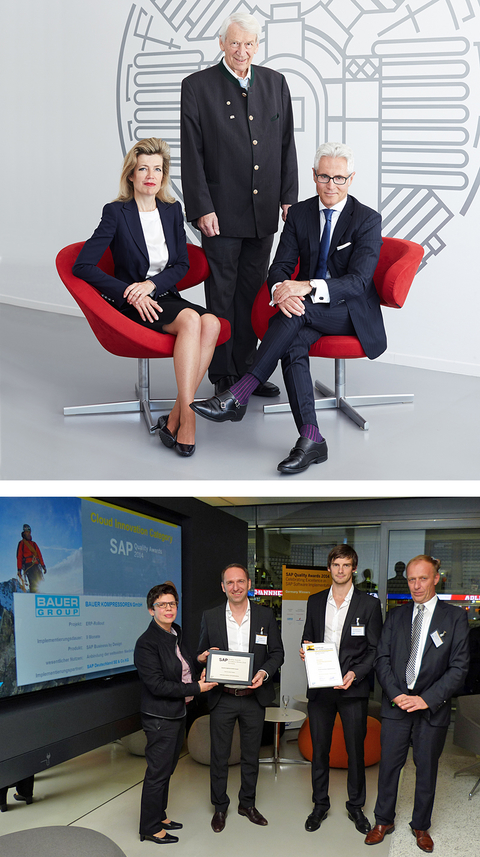 2012
The third generation took over the ownership of the BAUER GROUP.
Dr. Monika Bayat took over the ownership of the BAUER Group from her father Heinz Bauer. She runs the company together with her husband Philipp Bayat.
BAUER KOMPRESSOREN India Pvt Ltd achieved its ISO achievement and implemented SAP ByD.
BAUER KOMPRESSOREN India received the ISO award. With this award, it played "role model" to BAUER KOMPRESSOREN Gulf GCC in Dubai and BAUER KOMPRESSOREN Shanghai's ISO certification.

BAUER KOMPRESSOREN India is also the first in the Group to implement SAP ByD and the Group's SAP team is set up here in Pune.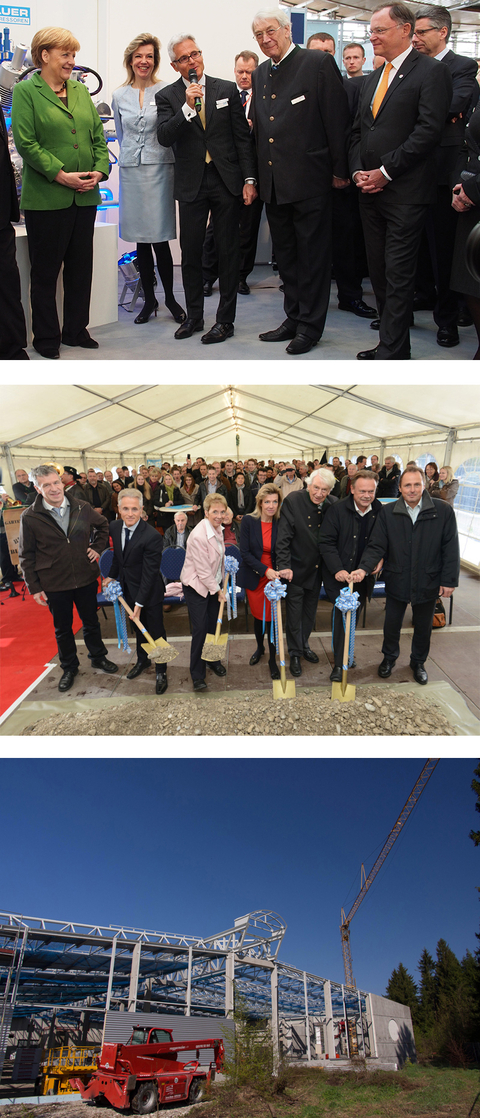 2013
New subsidiaries in Spain, Brazil and South Korea.
BAUER KOMPRESSOREN Korea Ltd in Seoul, South Korea, BAUER COMPRESSORES Brasil Ltda. in São Paulo, Brazil, and BAUER KOMPRESSOREN SERVICE S.L. in Barcelona, Spain, are the most recent members of the BAUER GROUP.
Visited by 2 World Leaders at Hannover Messe 2013.
Dr. Angela Merkel and Vladimir Putin visited our stand at Hannover Messe. On display were our BK 52 compressors which can refuel up to 2000 vehicles per day; and the world's smallest natural gas refueling station designed for continuous operation designed for small vehicle fleets which is most viable for expanding the supply of natural gas and biogas to remote regions, suited to a large and diverse terrain like Russia.
BAUER KOMPRESSOREN expand.
On 11st October 2013 BAUER KOMPRESSOREN started to build his new manufacturing plant in Geretsried.

Around 130 employees from production, quality management and procurement will move from Munich to Geretsried.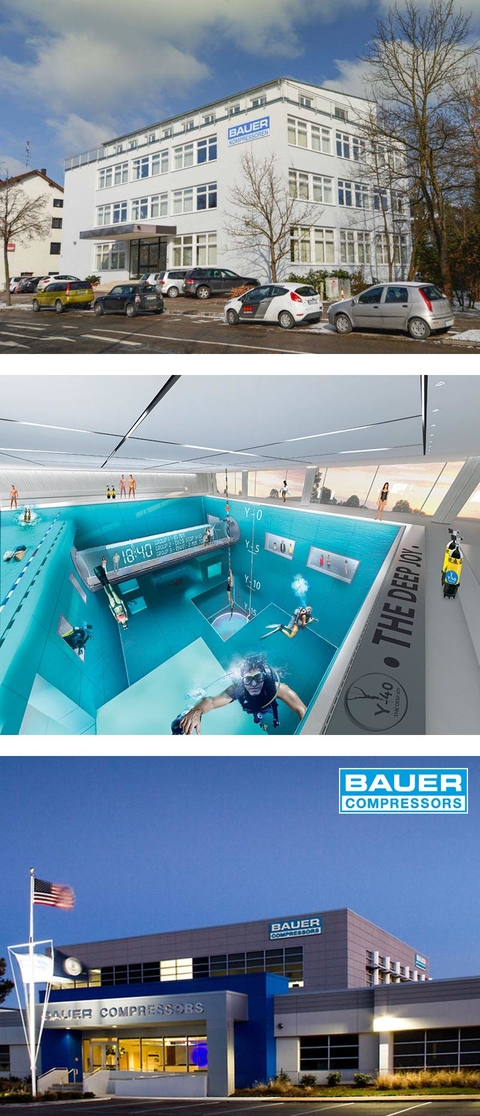 2014
BAUER KOMPRESSOREN moved R&D, Sales and Administration.
R&D, Sales and Administration from BAUER KOMPRESSOREN moved to our brand new office in Munich.
Y40 – With BAUER breathing air in the deepest indoor diving pool in the world.
BAUER KOMPRESSOREN deliver two high-powered, soundproofed compression systems to the deepest indoor diving pool in the world Y40 (40 m deep) at Montegrotto / Italy. The indoor diving pool is certificated with the BAUER KOMPRESSOREN's own in-house PureAir System to guaranteed pure air.
BAUER COMPRESSORS Inc expanded.
We completed a US$20 million dollar investment on the renovation/expansion of BAUER COMPRESSORS Inc. in Norfolk, USA, with the aim of increasing our manufacturing capacity and meet our customers' needs. The event was graced by the Governer Terry McAuliffe, Norfolk Mayor Paul Fraim and the Secretary of Commerce and Trade Maurice Jones and was attended by the owners.
BAUER KOMPRESSOREN India Pvt Ltd moved to our own brand new office.
BAUER KOMPRESSOREN India Pvt Ltd in Pune, India moved from our rented office to our own brand new office. In the short span of 6 years since BKI started operations, it has grown 8-fold and the new building has a workshop space of over 1,200 sq metre and an office space of 600 sq metre to cater to our expanding business.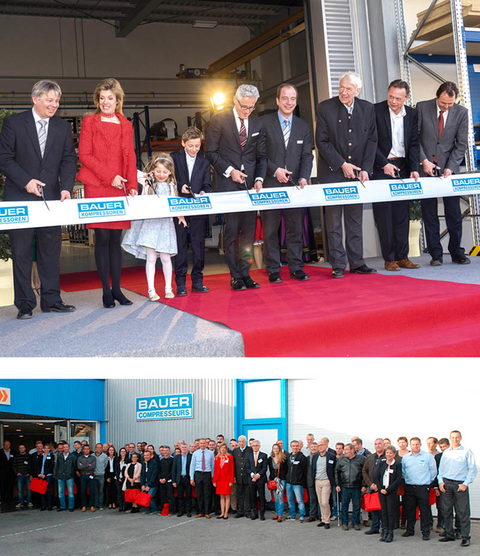 2015
New home for BAUER KOMPRESSOREN GmbH, Munich.
BAUER KOMPRESSOREN GmbH moved from Munich to Geretsried, which is 30 km away to be next door to its block production UNICCOMP.

The new facility has a floor space of 5,000 sq metre and is installed with the latest State-of-the-Art technology. The investment cost 15 million EUR in total and will bring our production and assembly processes closer together.
BAUER COMPRESSEURS SAS (France) 30th Anniversary.
On 1st October 2015 we celebrated BAUER COMPRESSEURS SAS 30th Anniversary with over 50 customer and guests on its premises in Aix-les-Bains, France.
Partnership with Pioneering spirit aka ("also known as") Pieter Schelte.
16 units of compressors were successfully installed on the world's largest platform installation/decommissioning and pipelay vessel, the Pioneering Spirit (which was formally named Pieter Schelte).