Cutting Machine Operator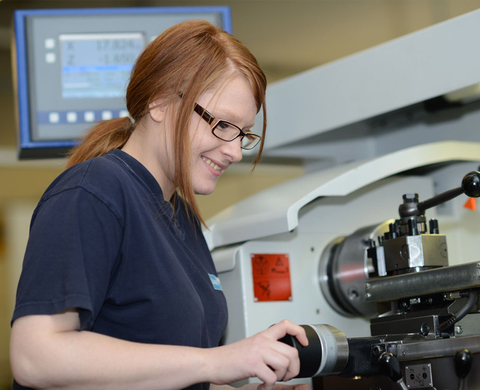 Training duration
3.5 years
Training takes place at the company training sites and at vocational college.
Field of work
Cutting Machine Operators work in areas where components are manufactured using machining processes. Typical applications include rotary machine systems, milling systems, automatic lathes and grinding systems for custom and series production.
Professional skills
assess and analyse production orders on technical feasibility, select information sources and technical documents to implement production,
select manufacturing systems based on order specifications,
plan production processes, create and optimise programs for numerically controlled production systems and perform setup operations,
use data sheets, descriptions, operating instructions and other job-specific information, including in English,
set up the workstation and organise work procedures observing timeframe and financial requirements,
provide components based on qualitative specifications by machine-cutting manufacturing techniques and monitor the production process,
apply quality management systems, document and evaluate work and test results and derive measures for manufacturing and product optimisation,
monitor and check safety equipment, maintain and inspect manufacturing systems,
work in a team, carry out instruction on the operation of production systems, agree activities with upstream and downstream operations, observe customer requirements.