Warehouse Logistics Technician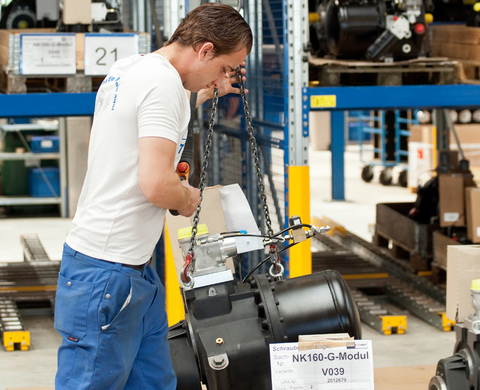 Training duration
3 years
Training takes place at the company training sites and at vocational college.
Field of work
Specialists for warehouse logistics dominate the unpacking, sorting, storing, preparing for dispatch and delivery of tools. In addition, they are able in terms of quality testing, warehouse control and inventory through to packaging technology, logistics, IT and picking.

The worldwide shipment of replacement parts is just as much a daily part of supply of the assembly department with picked goods in the correct quantity, required quality level and at the correct time.
Professional skills
are involved in logistical planning and organisation processes,
accept inward goods and check the delivery against the accompanying documents,
transport goods to the destination point in the company,
unpack, sort and store the goods in line with requirements and following efficient principles, in compliance with warehouse regulations,
perform inventory checks and measures of inventory management,
pick and pack goods for shipments and compile loads,
identify, label and secure shipments in accordance with legal requirements,
create loading lists and loading procedures in line with international storage provisions,
unload and store shipments in line with the accompanying documents using transport equipment and international packaging regulations,
edit shipping and accompanying documents and create shipping records,
assist with the creation of the route plans,
plan, organise and monitor the use of work tools and transport equipment,
apply company information and communication systems, standard software and workstation-based software in warehouse logistics,
communicate and cooperate with upstream and downstream functional areas,
assist with quality assurance measures.