Mechatronics Engineer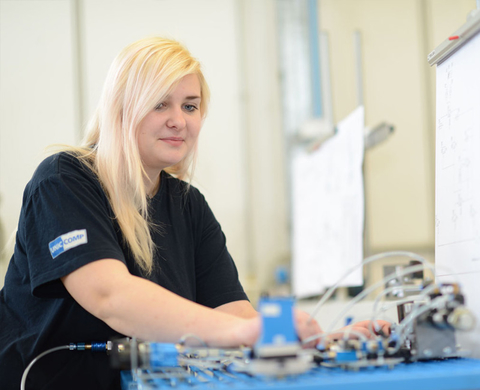 Training duration
3.5 years
Training takes place at the company training sites and at vocational college.
Field of work
Mechatronic engineers engaged in the assembly and maintenance of complex machines, equipment and systems in mechatronic systems.
Mechatronic engineers work at different locations, independently in accordance with documents and instructions mainly on assembly sites at home and abroad, in workshops or in the service area in accordance with the relevant regulations and safety regulations. They often work in teams. They coordinate their work with upstream and downstream areas.
Mechatronic engineers for the purposes of accident prevention regulations for electricians.
Professional skills
plan and control work procedures, monitor and evaluate results and apply quality management systems,
edit mechanical parts and assemblies and components to construct mechatronic systems,
install electrical sub-assemblies and components,
measure and test electrical values,
install and test hardware and software components,
construct electric, pneumatic and hydraulic controls and test them,
program mechatronic systems,
assemble and disassemble machines, systems and equipment, transport and secure them,
check the functions of mechatronic systems and perform setting work,
commission mechatronic systems and operate them,
complete handovers of mechatronic systems and instruct customers,
conduct maintenance on mechatronic systems,
they work with English documents and also communicate in English.