News 2012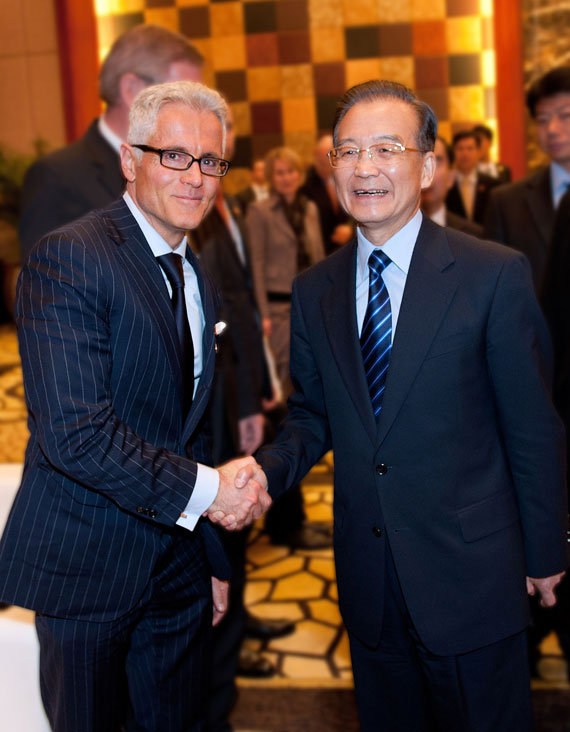 Munich, February 13, 2012
To the Middle Kingdom with the German Chancellor
An auspicious handshake. Philipp Bayat, CEO of the BAUER GROUP, joined the German trade delegation on the German Chancellor's visit to China from 1 to 4 February 2012. During talks with that country's most prominent political leaders and captains of industry, Philipp Bayat had the honour of meeting China's Prime Minister Wen Jiabao.
"Accompanying such a prestigious personality as the German chancellor at top-level trade talks", says Philipp Bayat, "naturally generates an enormous amount of trust and confidence among our customers on the Chinese market." And rightly so, he affirms. After all, the invitation to join the Chancellor's trade delegation is issued for good reason. BAUER GROUP, explains Bayat, is an exemplary model of all the values that have made Germany's mechanical engineering so great and successful in the international arena: "The name of BAUER is regarded as synonymous with the qualities of technology market leadership, supreme-quality products, optimum service and unswerving reliability."
Bayat was impressed by the cordial atmosphere and welcoming hospitality which marked the meetings and discussions. And the mood is set to grow even warmer for German companies; after the talks, Prime Minister Wen Jiabao anticipates that Sino-German trade volume will rise from its 2011 level of 169 billion USD to 200 billion USD in 2012 - a figure originally forecast only for 2015.
BAUER KOMPRESSOREN GmbH
Stäblistr. 8
81477 Munich, Germany
Tel.:
+49 (0) 89 / 78049 – 0
Fax:
+49 (0) 89 / 78049 – 167
E-Mail:
info

@

bauer-kompressoren

.

de