News 2021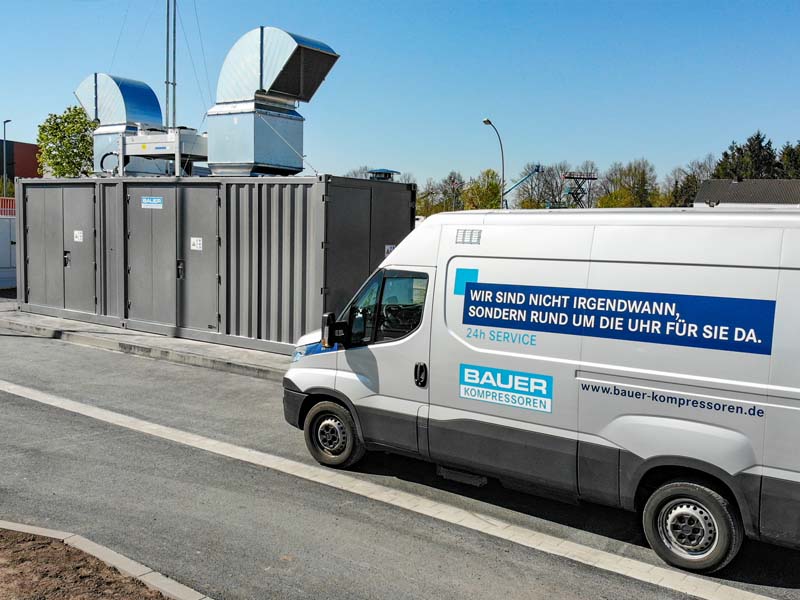 Munich, May 31, 2021
Organic food company's truck fleet fill up at BAUER natural gas refuelling station
Sustainability is the strict philosophy of organic food wholesaler Weiling GmbH from the German town of Coesfeld, west of Muenster. In future, the company's fleet of trucks which deliver orders to its customers nationwide will be powered by biomethane produced from renewable sources. As there was no gas fuelling station anywhere in the vicinity to realize this vision, Weiling decided to set up its own and commissioned BAUER to design and construct one as a turnkey project.
Gas is supplied to the new fuelling station at 3.8 bar intake pressure and is then compressed by a CS26.10-132 system to its final pressure of 300 bar. The station's core elements of compressor, cooling system, storage system and control unit are housed in an all-weather 30-foot container.
With free air delivery of almost 500 m3/min, the new station is designed to handle refuelling for the company's current 20 tractor-trailers, while still having generous capacity reserves that will easily cover the fleet's planned expansion to 30 trucks. Its modular design will also enable fuelling capacity to be increased in future if required by installing additional storage banks.
BAUER KOMPRESSOREN GmbH
Stäblistr. 8
81477 Munich, Germany
Tel.:
+49 (0) 89 / 78049 – 0
Fax:
+49 (0) 89 / 78049 – 167
E-Mail:
info

@

bauer-kompressoren

.

de