The Indoor range from CTA 15 to CTA 52: Our filling stations for indoor installation. Making the very best use of existing infrastructures
Excellent modularity: Can be combined with all BAUER refuelling equipment and storage systems
The very latest technology and safety: In the very best BAUER quality
Spatially optimised for indoor installation: Compact, modular design combined with powerful performance
Global spare parts guarantee over 25 years: Your investment could not enjoy better protection
On-site installation and commissioning by experts: Our experienced specialists and engineers will attend your site to carry out this work
The CTA-Indoor is the right choice if a building is already available for the CNG application and the equipment is to be installed within an existing infrastructure.
Based on the CNG compressor types of the CS 23 – CS 52 series, the filling stations in the CTA-Indoor series are designed for indoor installation. All of the benefits of drying on the high-pressure side and monitoring of the pressure dew-point can be enjoyed with these stations.
The modular construction of the system supports low, mid-range or high daily capacities. The storage systems and refuelling equipment in the BAUER portfolio can be combined with the compressor models in the CTA-Indoor series.
Many of the details of the design of the modules in the CTA series go beyond the state of the art.
Thanks to the quality that is synonymous with the BAUER name, the filling station can be depended upon for reliable operation at all times, even under maximum stress and load. Furthermore, long service life and spare parts availability (25 years) provide your investment with the very best protection.
All the information you need at your fingertips!
Storage system
The storage systems, which are made up of a number of special high-pressure vessels, are scalable, modular by design and suitable for installation both indoors and outdoors. Read more
Filling and refuelling control
Filling and refuelling control regulates the priority in which the high-pressure storage system is filled. During refuelling, it also regulates the sequence in which gas is withdrawn from the high-pressure storage system. Read more
Dispenser/Fill post
This dispensing unit is used for depot refuelling or in public filling stations. Read more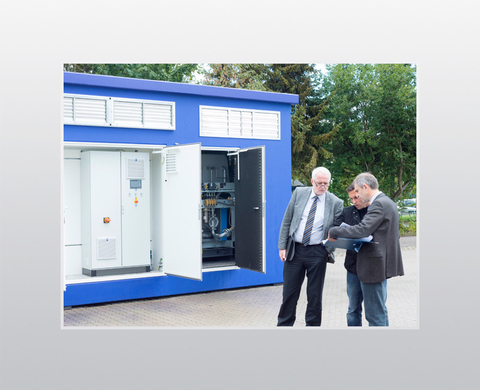 TÜV approval
During technical parts approval testing in the factory prior to delivery, the TÜV carries out comprehensive pressure and safety testing as well as testing the electrical equipment.
Installation/Commissioning
Our regional service teams deliver expert installation and commissioning including comprehensive operator induction. This ensures smooth operation at all times. Read more
Scope of delivery, basic version
Complete compressor unit ready for operation. Read more
FGS – CNG/BIOGAS COMPRESSORS
Type
designation ³, ⁴
Inlet Pressure
(at first stage
compressor)
Capacity ¹
Working
pressure
No. of
compr. stages
Standard
speed
Motor
power
Power
consumption ²
min.
max.
min.
max.
barg
barg
m³/h
m³/h
barg
rpm
kW
kW

High pressure units

MFE 120
0.05
0.3
11
14
300
3
1340
5.5
5.2
CTA 15.2-16
0.05
0.3
35
43
300
4
1450
16
14.9
CTA 15.4-16
2
4
30
51
300
3
1450
16
12.3
CTA 22.0-30
0.05
0.3
57
72
300
4
1320
30
27.3
CTA 23.0-37
0.05
0.3
86
106
300
4
1200
37
34
CTA 23.2-37
0.05
1
62
118
300
4
1200
37
35.7
CTA 23.10-37
2
4.5
79
146
300
4
1140
37
35.8
CTA 23.12-37
4.5
10
97
195
300
4
1140
45
40
CTA 23.13-37
8
14
123
206
300
4
1140
37
32.8
CTA 26.0-90
0.05
0.3
193
238
300
4
1485
90
72.7
CTA 26.2-110
0.05
1
161
306
300
4
1485
110
90.5
CTA 26.10-132
2
4.5
307
562
300
4
1485
132
125.2
CTA 26.12-132
4.5
10
317
634
300
4
1485
132
119.2
CTA 26.13-132
10
16
460
711
300
4
1485
132
123.6
CTA 26.14-110
16
38
275
654
300
3
1485
110
86.3
CTA 52.0-160
0.05
0.3
387
478
300
4
1485
200
141
CTA 52.2-200
0.05
1
323
613
300
4
1485
200
181.1
CTA 52.10-315
2
4.5
614
1124
300
4
1485
315
250.4
CTA 52.12-250
4.5
10
634
1269
300
4
1485
250
238.7
CTA 52.13-250
10
15
920
1339
300
4
1485
250
238
CTA 52.14-200
16
38
550
1308
300
3
1485
200
172.7

Medium pressure units

CTA 23.7-37
4
12
117
312
depending on
pre-pressure
2
1140
37
31.8
CTA 23.8-37
4
10
200
400
depending on
pre-pressure
2
1140
45
38
CTA 26.7
4
10
402
887
depending on
pre-pressure
2
1485
132
116
¹ Volume flow rate related to 1barg, 0°C gas inlet temperature and 20°C outlet temperature, flow measured at compressor inlet, acc. to ISO1217; tolerance: +/- 5%
² Mechanical power consumption at maximum inlet pressure and discharge pressure of 300 barg resp. 80 and 100 barg
³ CTA 120 , CTA 15.xx & CTA 23.xx are air cooled machines
⁴ CTA 26.xx & CTA 52.xx are water cooled machines