CAPITANO 140 – The mobile all-round compressor in excellent professional quality
Tough: Thanks to an incredibly durable driving gear. Suitable for short-term operation and continuous service
Durable and robust: Three-stage construction and industrial roller bearings maximise the service life of the units
Protected against corrosion: With an ultra-lightweight aluminium chassis for the best possible protection against corrosion
Reliable lubrication: With generously dimensioned low-pressure oil pump
The CAPITANO 140 by BAUER KOMPRESSOREN has been developed specifically for advanced professional applications. Incredible durability, compact dimensions and low weight count here in equal measure.
Furthermore, the first stage and the high-pressure final stage of the CAPITANO 140 feature piston rings made from a new high-tech plastic which are virtually wear-free.
A vibration-reducing motor rocker design optimises smooth running.
Thanks to the extensive range of BAUER accessories, the compressor can be customised to meet all manner of different requirements and intended uses in next to no time.
All the information you need at your fingertips!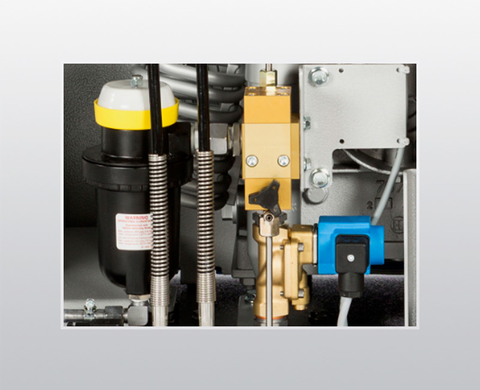 Automatic condensate drain incl. final pressure shutdown and control conforming to European CE standard
The automatic condensate drain B-DRAIN is controlled via the electrical control system. The condensate produced can be collected in a condensate tank for disposal in an environmentally-friendly way.
Compressor control (PROFI-LINE)
This electrical control system with additional monitoring electronics switches the compressor off automatically when the final pressure is reached in the system, measures operating hours and oil pressure, and displays the current operating status. As such, it facilitates fully automatic operation with storage systems.
Switch-over device PN 300/200 bar
For easy and flexible switching from 200 to 300 bar and vice versa. Read more
P 31 filter system
When used in conjunction with original BAUER filter cartridges, the P 31 filter system with integrated oil and water separator and pressure retention check valve can be relied upon for breathing air treatment conforming to DIN EN 12021¹. A type-tested and sealed final pressure safety valve enables particularly high levels of operational safety to be achieved. 600 m³ of air can be treated.
¹ If the units are maintained and installed correctly as described in the operating instructions or user manual and if the concentration of CO2 in the intake air does not exceed the values specified in the applicable standard for breathing air.
B-TIMER filter cartridge monitoring
The operating hours and the current level of cartridge saturation are displayed on the unique B-TIMER mini-computer. Read more

Telescopic intake tube
The telescopic intake tube is highly recommended when operating compressor units in locations with increased concentrations of hazardous substances such as CO or CO2.
It enables the intake range of the compressor to be moved to a suitable location.
Additional intermediate separator after the first stage
In the case of operation in locations where air humidity is high (tropical regions, for example), we recommend installing a separator downstream of the first compressor stage. This can extend the service life of the unit and reduce maintenance costs.
Paint finish/Special paint finish
All frame parts of BAUER compressors are finished with a sophisticated powder coating. Read more
Scope of delivery, basic version
Complete compressor unit ready for operation. Read more
CAPITANO compressor, 90 – 330 bar, 140 l/min, high-pressure compressor for compressing air and breathing air
Type
designation
Charging rate ¹
Drive
Filter
system
Net
weight
Dimensions
L × W × H
l/min
Motor
kW
approx. kg
cm
CAPITANO 140-B
140
petrol engine
4.0
P 21
95
115 × 59 × 55
CAPITANO 140-E
140
Three-phase motor, 400 V, 50 Hz ²
3.0
P 21
102
115 × 59 × 55
¹ Measured with cylinder filling from 0 to 200 bar, ±5%
² Option of different voltage/frequency available
Videos for the PROFI-LINE compressors