B-MASTER – paintball filling system
B-MASTER MINI
|

B-MASTER MIDI

|

B-MASTER MAXI

For filling standard pressure vessels for paintballing

Pressure vessel sizes: 0.8 l; 1.1 l; 1.5 l; 1.9 l

Filling pressures: 200 bar / 300 bar

The B-MASTER filling panel serves to fill compressed air cartridges in the high pressure ranges of 200 or 300 bar, primarily for paintball markers.

The B-MASTER filling panel is mounted externally, i.e. suitable piping is to be routed between the compressor and filling panel.
Using a t-connector, the pressure supply line can be distributed to additional panels (when filling several cartridges at the same pressure).

The filling pressure in the pressure vessel is displayed via a pressure gauge in bar/psi.
In the B-MASTER MAXI, the safety valve is mounted as standard (otherwise as an option) so that the pressure supply does not have to be protected to 200 or 300 bar here.

The safety valve is set at the factory. The high-performance filling valve is rust-proof and has a service life of several hundred thousand switching cycles.
The filling hose is bled automatically once you let go of the operating lever.
A silencer reduces the level of noise that occurs.

The filling coupling fits all standard paintball nipples and is equipped with a check valve. The valve prevents the filling hose from moving around in the event that it is accidentally activated without a marker being attached.
All the information you need at your fingertips!
B-MASTER

| | Number of filling valves | Number of pressure ranges | Safety valve | Pressure reducer |
| --- | --- | --- | --- | --- |
| MINI filling panel | 1 | 1 | – | – |
| MIDI filling panel | 2 | 1 | – | – |
| MAXI filling panel ¹ | 1 | 2 | | |
¹ Suitable for the direct connection of the filling panel to a storage unit with a max. storage pressure of 420 bar
In conjunction with additional filling panels, the MAXI filling panel is ideal for establishing a filling line with an alternative filling pressure (e.g. additional MIDI filling panels with 300 and 200 bar)
The filling pressure in the pressure vessel is displayed via a pressure gauge in bar/psi.
B-MASTER – paintball filling device:
Filling panels for "table-top mounting" with enclosed plastic housing
Can be attached via four bores on the base
Direct valve actuation
Automatic bleed
Adjustable valve play
Upper and lower valve stop setting
Rust-proof valves with several hundred thousand switching cycles
Pressure input at rear of housing
Option to distribute pressure to several filling panels via t-connector
Connection of filling hose at rear of housing
Installation diagram for standard version: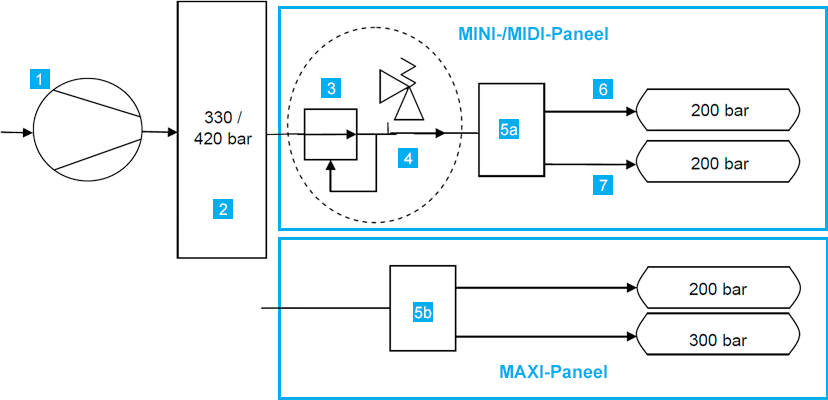 BAUER compressor with standard scope of delivery
Storage unit with equipment in line with BAUER standard
Pressure reduced from storage pressure to filling pressure
(e.g. from a storage pressure of 420 bar to a filling pressure of 300 bar)
Filling pressure safety valve (300 bar in example above)
B-MASTER filling panel
a. MINI or MIDI panel
b. MAXI panel (incl. pressure reduction, safety valve)
Pressure vessel
Second filling connector for MIDI filling panel