News 2020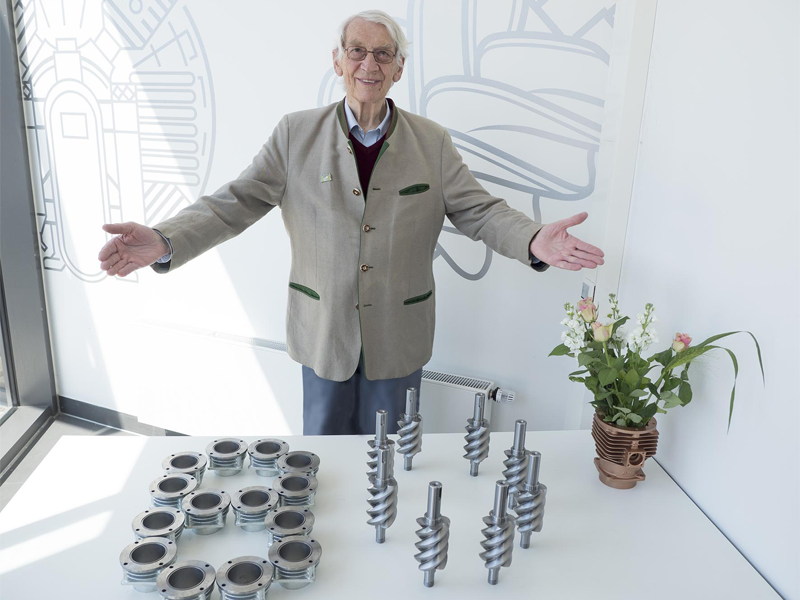 Munich, June 17, 2020
HEINZ Bauer celebrates his 80th birthday
Years after officially handing over the company to his daughter, Dr Monika Bayat, he is still bringing his technical expertise to the table, developing visions of new markets and products and holding meetings with design engineers. And no wonder; for almost three-quarters of a century, BAUER the man has been inseparable from BAUER the company.

Heinz Bauer's life with BAUER began shortly after the Second World War in 1946, when the newly founded company began operations.
After leaving school, he went straight into the company. In 1956 he played a leading role in developing the legendary UTILUS, the original diving compressor. Spells working with other companies in Switzerland and Great Britain enabled him to build a wealth of knowledge and experience. In 1976 his father Hans handed the family company to him, and four years later he also took the helm of the newly founded sister company, ROTORCOMP, a manufacturer of screw compressor modules with a revolutionary new rolling profile.
Under Heinz Bauer's leadership, in the following decades BAUER KOMPRESSOREN evolved into the international BAUER GROUP and today boasts 22 subsidiaries, over 350 sales partners and 600 service centres all over the world. At the same time, BAUER developed a legendary reputation for reliability that allowed the company to carve out its status as undisputed quality leader throughout all areas of industry.
Heinz Bauer has always focused on uncompromising product quality and technology leadership –but has also been careful to foster the human touch with the employees of the family-run company. All these factors are, and always will be, the key to BAUER's success. In the current situation, employees and friends alike made the most of every form of media available to them to congratulate Heinz Bauer and express their thanks and admiration for his life's work.


BAUER KOMPRESSOREN GmbH
Stäblistr. 8
81477 Munich, Germany
Tel.:
+49 (0) 89 / 78049 – 0
Fax:
+49 (0) 89 / 78049 – 167
E-Mail:
info

@

bauer-kompressoren

.

de