News 2020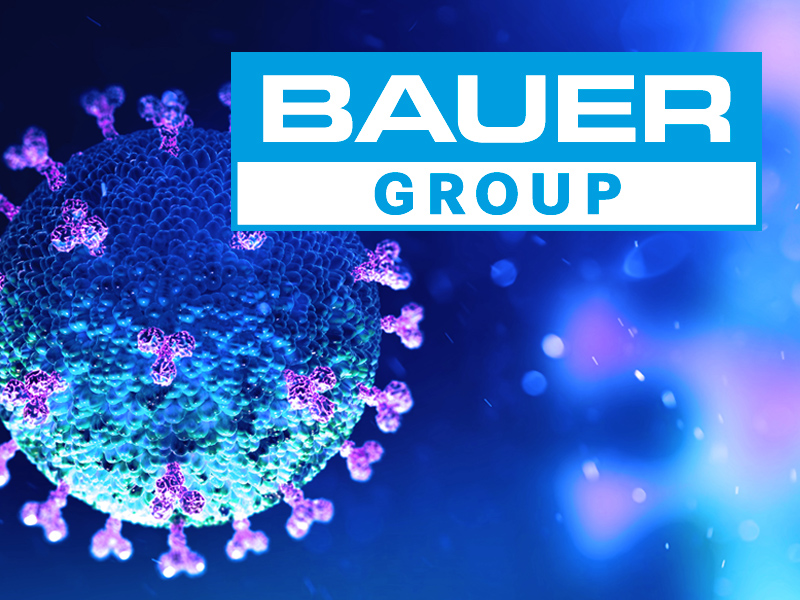 Munich, March 31, 2020
CUSTOMER INFORMATION | COVID-19 VIRUS | ACTION TAKEN BY BAUER GROUP
Dear BAUER Customers, Partners and Associates,
As an internationally operating company, we are deeply aware of our responsibility and duty of care for our partners, employees and customers. Our top priority is always the health and safety of the people in our company. Beyond our company boundaries, we also hold ourselves to our duty to act responsibly and do our part to protect our society.
We are closely and continuously monitoring the COVID-19 situation, assessing all new developments as they arise, and taking targeted action to protect our employees on that basis. We are doing everything to uphold our production operations at our plants and maintain our services, to ensure our customers and partners are supported as effectively as possible as the situation unfolds. This is particularly important in areas supplying products and solutions for essential infrastructure.
The BAUER GROUP has consistently taken action to protect our employees and partners since the start of the spread of COVID-19, and will continue to do so as the situation develops.
ACTIONS IN THE SUPPLY CHAIN – PROTECTING DELIVERY CAPABILITY
We are constantly reviewing our supply chain to assess the impact of the situation on delivery capacity.
Critical parts or suppliers are quickly identified and alternatives are sourced. This protects the stability of our supply chain and our delivery capacity at present. However, at the moment no company is in a position to make guarantees for the future.
The management of the BAUER GROUP has decided to build up a targeted inventory of products which will enable us to prioritize incoming orders and thus meet delivery dates.
ACTIONS FOR OUR EMPLOYEES – PROTECTING OUR CAPACITY TO OPERATE
To protect our employees, we proactively provided information at a very early stage, raised their awareness of the situation and implemented the safety and hygiene standards imposed by the official authorities to combat the COVID-19 virus.
Our policy of providing rapid information further ensures that our employees engage in preventive actions in an exemplary way. This enables the members of our workforce to maintain their performance.
We use mobile workstations to ensure social distancing. The vast majority of internal and external meetings are held by telephone or as video conferences.
SUMMARY
We are well aware that the coming time will bring huge challenges for us all. However, we are confident we will emerge stronger from this crisis. Our thanks go to you all in advance for your trust and your understanding.
Stay healthy!
BAUER KOMPRESSOREN GmbH
Stäblistr. 8
81477 Munich, Germany
Tel.:
+49 (0) 89 / 78049 – 0
Fax:
+49 (0) 89 / 78049 – 167
E-Mail:
info

@

bauer-kompressoren

.

de