News 2013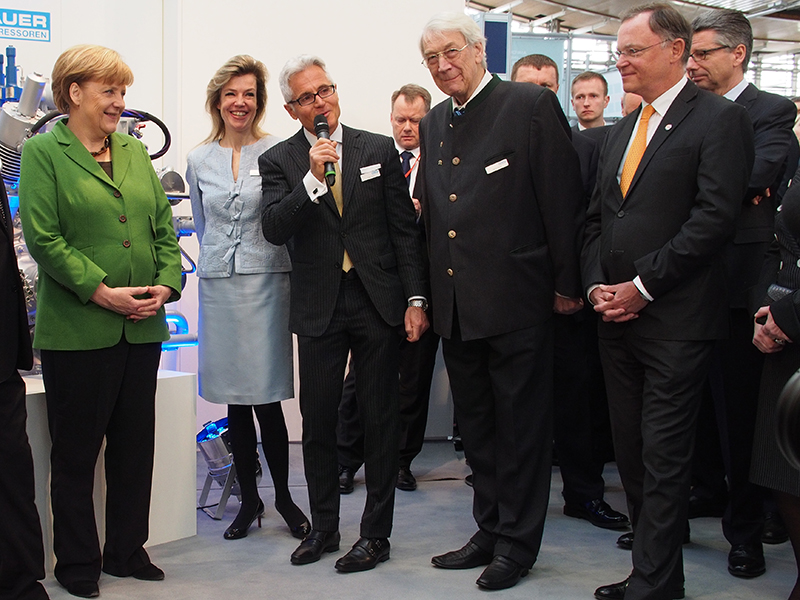 Munich, April 08, 2013
Munich/Hannover – The BAUER GROUP welcomes Dr. Angela Merkel – she visited our stand at Hannover Messe on Monday 8 April
For her tour of Hannover Messe, the world's foremost technology exhibition, the German chancellor had chosen eight companies representing the most outstanding technological developments.
The German chancellor was welcomed to the stand by Dr. Monika Bayat, Heinz Bauer and Philipp Bayat, who presented the powerful new high-pressure compressor, based on bionic principles, from BAUER's 'new generation' of compressors (BK 23, BK 24, BK 26 and BK 52).
The BK 52 received its world premiere at Hannover Messe. Bayat explained that where natural gas is used as vehicle fuel, a trio of BK 52 compressors can refuel up to 2000 vehicles per day. The world's smallest natural gas refuelling station designed for continuous operation with a mere 1.2 metres in length, is designed for small vehicle fleets and as a means of expanding the supply of natural gas to remote regions.
BAUER KOMPRESSOREN GmbH
Stäblistr. 8
81477 Munich, Germany
Tel.:
+49 (0) 89 / 78049 – 0
Fax:
+49 (0) 89 / 78049 – 167
E-Mail:
info

@

bauer-kompressoren

.

de