News 2013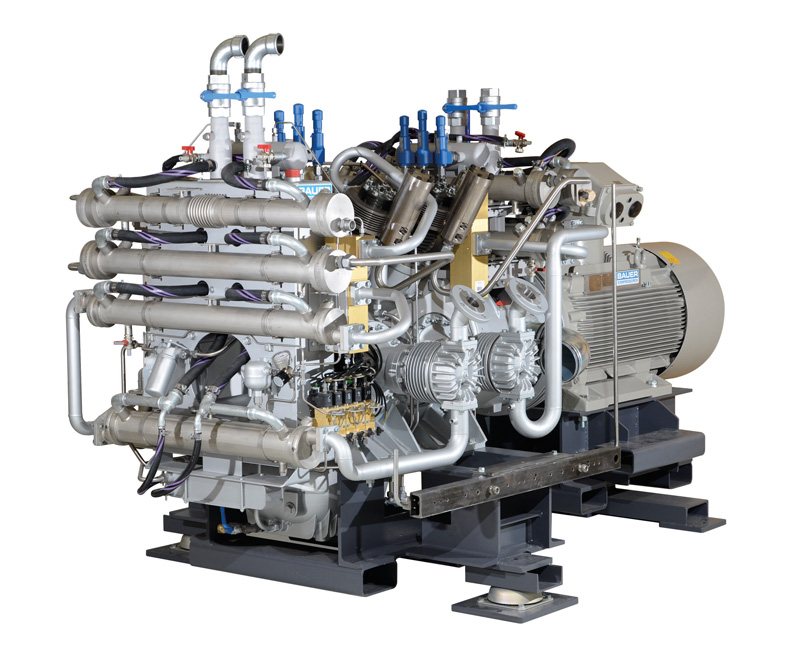 Munich, March 08, 2013
BK 52 – the new water cooled top model from BAUER
At Hannover Messe 2013, BAUER KOMPRESSOREN unveiled its new top model BK 52 from its water cooled compact series. This impressive new compact unit features two four-cylinder stages that effortlessly provide double the FAD of this series's previous champion. An additional highlight is its particularly high efficiency for greater cost effectiveness in everyday industrial applications.
Like all models from the water cooled series, the compact BK 52 combines outstanding efficiency with enviously low operating costs in its performance range.
Its modular design allows custom systems with a wide range of FADs and inlet pressures. Systems can be fitted as necessary with electric or diesel drive.
For minimised power consumption, the installed electric motors comply with energy efficiency class IE2 or optionally IE3.
The pressure resistant crankcase eliminates blowby gas losses and minimises oil consumption. The booster version is designed for inlet pressures up to 38 bar.
Fitted with the new dry sump lubrication, systems can operate at inclinations up to 30° – a highly interesting solution for mobile applications and ships' environments!
The same motor rating leads to greater FAD and hence higher efficiency thanks to smooth running pistons in conjunction with valves and piping configured for the optimal gas flow.
The extremely long intervals between valve checks and oil changes keep the operating costs low.
BAUER KOMPRESSOREN GmbH
Stäblistr. 8
81477 Munich, Germany
Tel.:
+49 (0) 89 / 78049 – 0
Fax:
+49 (0) 89 / 78049 – 167
E-Mail:
info

@

bauer-kompressoren

.

de