News 2013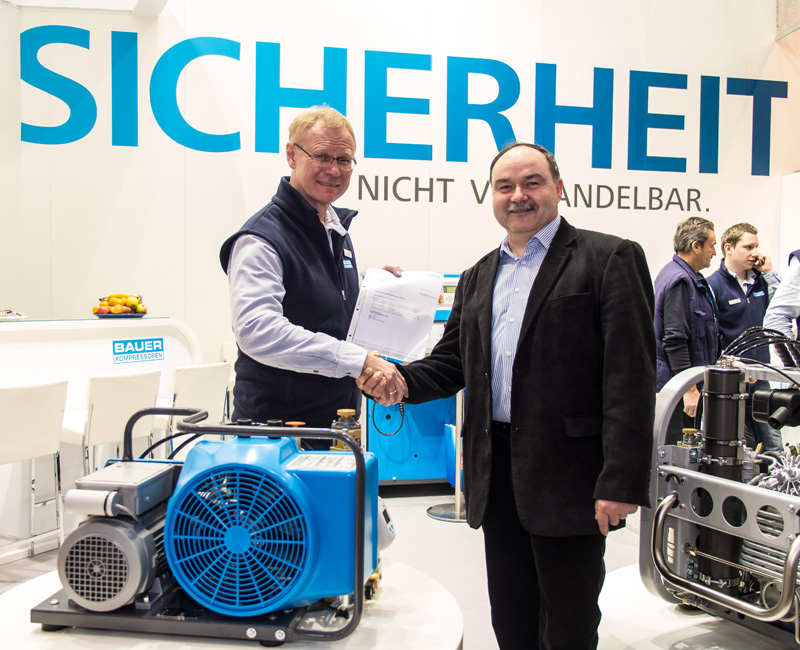 Munich, January 25, 2013
BAUER KOMPRESSOREN presents compressor to the University of Rostock
Five years ago, BAUER KOMPRESSOREN provided the research diver centre of the University of Rostock with a mobile breathing air compressor, model OCEANUS. Thanks to its compact external dimensions, the corrosion-proof stainless steel frame parts as standard and its – based on the compressor size – comparatively high FAD, it has proved to be perfectly suited for use on board the institute's own research vessel due to the limited space available. Over the past five years, it has delivered pure breathing air according to DIN EN 12021 for dives performed within the scope of research diver training and for monitoring the development of the cod population at the artificial reef near Nienhagen in the Baltic Sea.
The tremendous success of the research project has persuaded BAUER KOMPRESSOREN to support the project over the long term by allowing the centre to use the compressor on a permanent basis.
At the boot 2013 exhibition, Head of Sales Breathing Air, Günter Klier, before an audience of representatives from the diving press, officially presented the compressor to Dr.-Ing. Gert Niedzwiedz, MNF/Institute for Life Sciences.
BAUER KOMPRESSOREN GmbH
Stäblistr. 8
81477 Munich, Germany
Tel.:
+49 (0) 89 / 78049 – 0
Fax:
+49 (0) 89 / 78049 – 167
E-Mail:
info

@

bauer-kompressoren

.

de