News 2016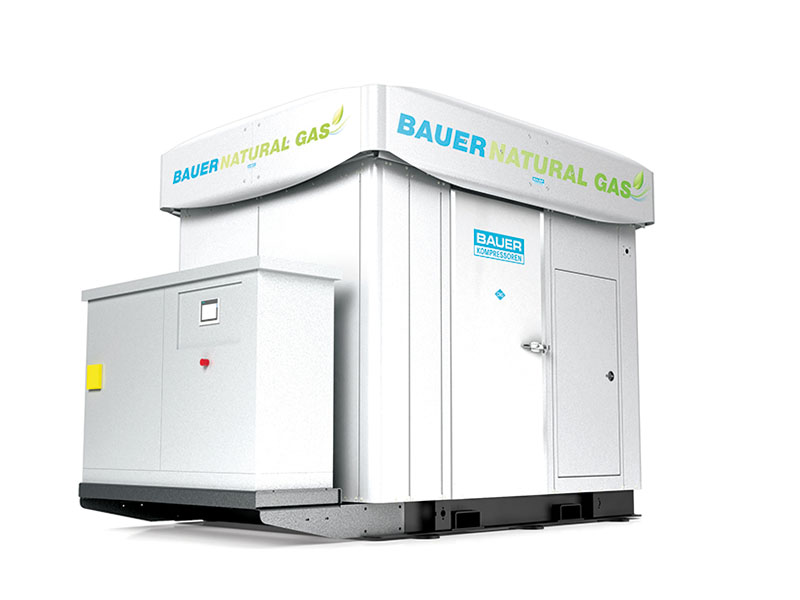 Munich, August 01, 2016
The new CNG "M-SERIES" from BAUER
BAUER KOMPRESSOREN's M-SERIES complements its newly developed CNG Systems series to provide a complete range of systems tailored to every need of its customers.
In terms of dimensions and output, the new M-SERIES ranges above the COMPACT series and below the X-FILL series. It is the result of a further successful joint project by Munich-based BAUER KOMPRESSOREN and BAUER COMPRESSORS in Norfolk, USA. With power consumption of 40 kW, the air-cooled CNG compressor system seamlessly fulfills the catalogue of requirements currently imposed by the European CNG market on public filling stations.
The M-SERIES can accommodate the complete range of BAUER 23 CNG blocks, from BK23.0 right up to BK23.14. Like all the other systems in BAUER's new series of compressors, M-SERIES features housing of weatherproof sheet metal, which offers considerably lower weight and compact dimensions compared to conventional concrete housings. The newly developed M-SERIES saves an incredible 20 tonnes in weight compared to concrete housings of similar design.
This represents an enormous advantage in transport costs, and also simplifies handling. During its development, the engineers had the primary objective of creating a modular structure to ensure an ease of expansion. This will provide customers with the option of starting with a smaller system and later adjust the capacity to their growing needs by simply adding further modules. The FAT (Factory Acceptance Test) was completed successfully, and the first system will be displayed at BAUER's Plant 1/Geretsried from August, ready for viewing by interested customers.
The launch of M-SERIES production is scheduled for the summer of 2016.
BAUER KOMPRESSOREN GmbH
Stäblistr. 8
81477 Munich, Germany
Tel.:
+49 (0) 89 / 78049 – 0
Fax:
+49 (0) 89 / 78049 – 167
E-Mail:
info

@

bauer-kompressoren

.

de