News 2016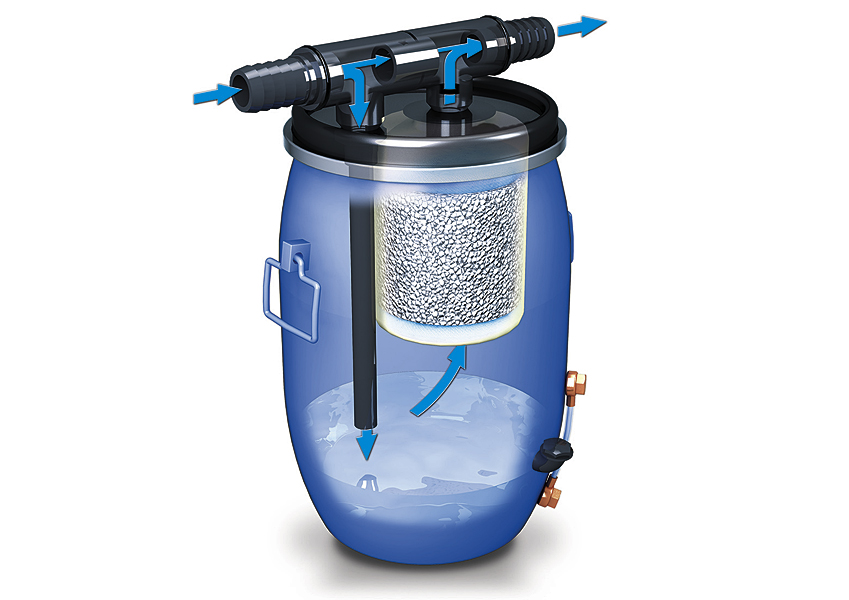 Munich, March 03, 2016
The new AERO-GUARD-OX from BAUER KOMPRESSOREN
Effective removal of CO2 resulting from nitrox production using BAUER B-NITROX membrane systems
If you want to produce large volumes of the oxygen-enriched breathing gas, nitrox, in a cost-effective manner, you typically choose a membrane-based B-NITROX system from BAUER KOMPRESSOREN.
Unlike the blending method, in which oxygen from an external source is added to achieve the desired nitrox composition, the membrane method achieves its result by separating the nitrogen from the intake ambient air before the air is compacted to its final pressure in the compressor. At the time, however, it's extremely important to note: By separating the nitrogen, not only does the proportion of oxygen in the remaining air mixture increase, but also the proportion of CO2. At 400 ppm, the CO2 proportion in normal ambient air is already close to the strict limit of 500 ppm, which is also the limit set for nitrox by the new breathing air standard DIN EN12021:2014. In the final nitrox composition, the CO2 content can exceed the legal limit by anywhere from 33% all the way up to over twice the limit, depending on the oxygen content of the composition.
You can avoid exceeding these limits by using the new AERO-GUARD-OX from BAUER KOMPRESSOREN. Thanks to a modified bypass system, 80 percent of the intake air is directed through a special filter. As a result, the proportion of CO2 in the filtered intake air is reduced to a mere 20 percent of the original value.
Operation is extremely simple: The saturated filter cartridge can be replaced in the blink of an eye without the need for any tools.
The AERO-GUARD-OX is designed for flow rates of 260 – 450 l/min and is therefore ideal for use in BAUER B-NITROX membrane systems. It is easy to upgrade systems which are already in use and this comes highly recommended for the reasons detailed above.
---
About the BAUER GROUP
The BAUER Group is a rapidly expanding, family-run medium-sized company with over 1200 employees around the world. With a turnover of around EUR 250 million, an export share of over 90% and assembly sites in the USA, Europe and Asia, the BAUER GROUP is a leading player on the global medium-and high-pressure market. The BAUER GROUP is best-known internationally for its compressors for filling breathing air cylinders, which are used by fire crews and divers. Other product areas include natural gas and biogas refuelling systems and special plants for all industrial applications, such as the chemical, petrochemical, automotive, oil, gas and power station industries.
Together with its companies UNICCOMP GmbH and BAUER KOMPRESSOREN GmbH, the BAUER GROUP has developed a reputation in Geretsried as an attractive employer with good internal training opportunities.
BAUER KOMPRESSOREN GmbH
Stäblistr. 8
81477 Munich, Germany
Tel.:
+49 (0) 89 / 78049 – 0
Fax:
+49 (0) 89 / 78049 – 167
E-Mail:
info

@

bauer-kompressoren

.

de