News 2019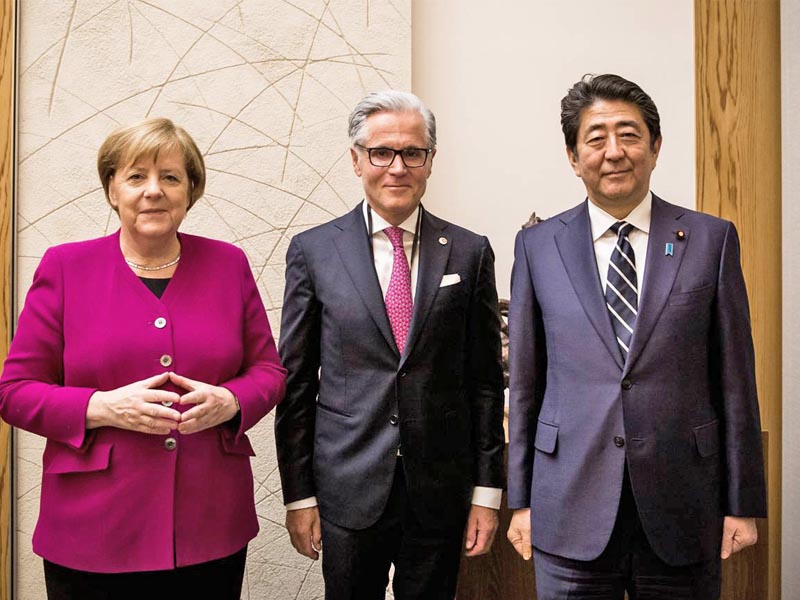 Munich, February 14, 2019
Philipp Bayat, Chairman of the Executive Board of BAUER GROUP, with German Chancellor Angela Merkel in Japan
The visit had been planned to mark the free trade agreement between Japan and the European Union (JEFTA), which came into effect on 1 February 2019. Together, Japan and the EU account for 40 per cent of world trade. The spirit of the agreement also presents the intention of establishing collaborations between large-scale and SME companies from the EU and Japan, with the aim of forging alliances that are better able to withstand global competition. It deals with topics including "big data", Industry 4.0 – also known as the Fourth Industrial Revolution – and climate policy; a constituent of JEFTA is the goal of meeting the targets of the Paris Agreement.
Given this, talks on expansion of climate-friendly renewable energy sources for public and private transport and for general energy supply appeared on the agenda – a field in which Japan is among the most ambitious economies. A BAUER subsidiary has been in operation in Japan for forty years; the company is the only international high-pressure compressor manufacturer to hold the necessary certification for Japanese markets. The BAUER production plant in Kitakami manufactures compressors for local markets as well as converting imported systems. The plant is currently undergoing its third phase of expansion.
BAUER is a global player in the production of biogas and natural gas fuels, where its operations include establishment of a network of natural gas fuelling stations in Abu Dhabi, and is a prospective leader in hydrogen compression technologies. Given his company's breadth of expertise, Philipp Bayat was therefore a natural discussion partner for Angela Merkel and the business delegation. The management team of the BAUER GROUP hopes that the free trade agreement with Japan will further business relations, and looks forward to contributing BAUER knowledge and technology to the fulfilment of targets set forth in the Paris Agreement.

The BAUER GROUP, established in Munich in 1946, is represented around the world with 40 subsidiaries and sales offices. The group has 1,200 employees and generates global sales of approximately EUR 280 million. Holding a 90% share of the export market, BAUER is the global market leader for high- and medium-pressure compressor systems. The BAUER GROUP's product portfolio spans breathing air compressors; gas injection technology (GIT) for plastic injection moulding; natural gas, biogas and H2 fuelling stations; and compressor systems for all industrial applications and segments. After ratification of the provisions of the Paris Agreement, fuelling stations for natural gas, biogas and hydrogen are expected to experience a boom, particularly in industrialised countries.


BAUER KOMPRESSOREN GmbH
Stäblistr. 8
81477 Munich, Germany
Tel.:
+49 (0) 89 / 78049 – 0
Fax:
+49 (0) 89 / 78049 – 167
E-Mail:
info

@

bauer-kompressoren

.

de