Infeed compressor units: Feeding bio-methane into the natural gas grid
Bio-methane is supplied into a natural gas grid providing an assurance of good supply with blanket coverage and guaranteed consumption of bio-methane. BAUER offers proven technology to feed "bio-methane" biogas treated to natural gas quality into different types of natural gas grid at pressure stages starting from PN 10, 10 barg operating pressure.
CS 23 – CS 52 series for bio-methane infeed
This series is characterised in particular by its variable output pressure which can be adapted to a given grid pressure.
The typical scope of delivery of an infeed compressor unit essentially comprises the compressor, its electrical control system and the requisite high-pressure system.
All the information you need at your fingertips!
Infeed (principle drawing)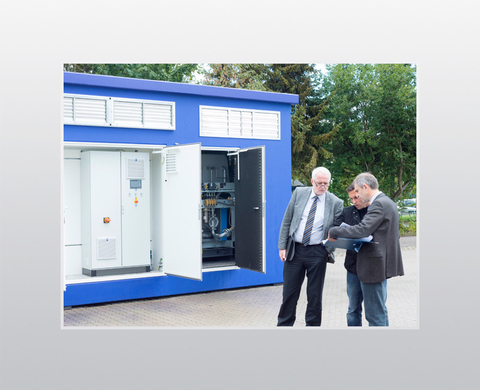 TÜV approval
During technical parts approval testing in the factory prior to delivery, the TÜV carries out comprehensive pressure and safety testing as well as testing the electrical equipment.
Installation/Commissioning
Our regional service teams deliver expert installation and commissioning including comprehensive operator induction. This ensures smooth operation at all times. Read more
Scope of delivery, basic version
Complete compressor unit ready for operation. Read more
Due to the large variance of the performance data required for bio-methane projects of this type we request that you direct any queries directly to us if you are interested.