News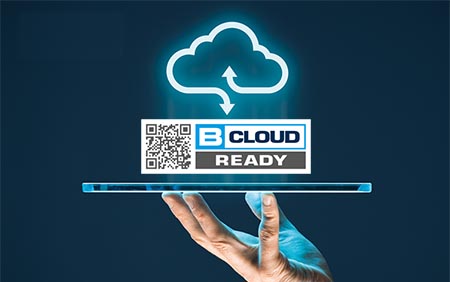 Munich, August 27, 2021
With BAUER B-CLOUD into the future
All stationary compressor and gas measurement systems with latest-generation B-CONTROL MICRO+net control units can transmit their operating data to the cloud, where customers can access them at any time from their smartphone or computer. Seamless end-to-end condition monitoring enables key data including temperature, operating pressure, oil pressure, filter cartridge saturation and gas measurement values to be kept in view at all times, virtually in real time and anywhere in the world, regardless of a system's physical location.
Maintenance works such as an upcoming filter cartridge replacement or fault alerts like loss of oil pressure are announced in good time in the form of plain text messages. In addition, gas measurement data can be archived securely in B-CLOUD and are automatically sent to the customer in a monthly PDF report. The option of transmitting and archiving their gas measurement data to the cloud also benefits owners of earlier-generation systems with B-DETECTION PLUS systems for continuous air quality monitoring. In addition, B-CLOUD offers the option of automatic software updates to ensure the connected systems are up to date at all times.
A further option boosts operator safety and security by allowing system owners to release their operating data to a BAUER service partner. Based on the data transmitted from the system or device, the service partner can suggest appointments for maintenance works or draw up full-scale maintenance plans. Help is on hand fast when it is needed, and remote monitoring saves time and costs by eliminating the need for technicians to travel.
All data transmission from and to B-CLOUD takes place under strong end-to-end encryption. In these times where cyber attacks are an ever-growing risk, BAUER has made data security and compliance with EU-GDPR its foremost concern.


BAUER KOMPRESSOREN GmbH
Stäblistr. 8
81477 Munich, Germany
Tel.:
+49 (0) 89 / 78049 – 0
Fax:
+49 (0) 89 / 78049 – 167
E-Mail:
info

@

bauer-kompressoren

.

de