News 2018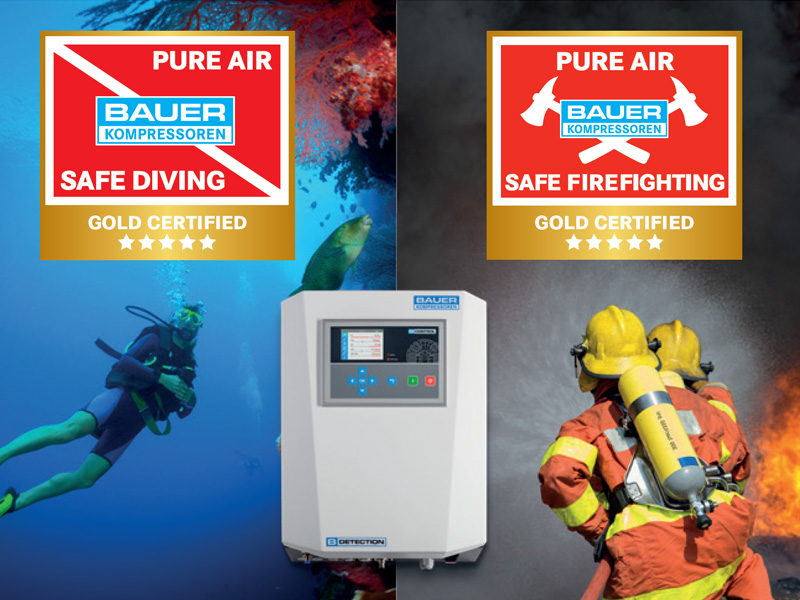 Munich, August 27, 2018
BAUER PureAir GOLD certification with B-DETECTION PLUS
Safe and clean breathing air is not a matter of course, but the result of BAUER's market-leading purification technology in combination with a complete screening of the compressed air. The new online gas measuring system B-DETECTION PLUS provides the latter. In order to make this unprecedented level of breathing air safety visible, BAUER has expanded the company's own PureAir breathing air certification to a new level and created PureAir GOLD. It requires the equipment of the filling station with B-DETECTION PLUS. This shows that you can monitor your air continuously with the new online gas measuring system B-DETECTION PLUS during the entire plant operation according to the air quality standard EN 12021: 20141. If the limit values are exceeded, it will automatically flush the bad air to the outside via a purging valve (optional) before it can get into the breathing air cylinder. Or switch off the system if necessary.

The previous standard will be continued under the likewise new label PureAir SILVER. All existing silver stations can easily be upgraded to the new PureAir GOLD standard by retrofitting a B-DETECTION PLUS system.
Detailed information about PureAir and the new standard can be found on the redesigned homepage www.pureair.com.

Start the certification of filling stations now! In addition to being present on the BAUER PureAir website, filling stations that are eligible for certification can also use the BAUER PureAir seal for marketing purposes. A clear competitive advantage compared to uncertified bases. We support you in your commitment for best breathing air quality with a wide range of marketing materials: write an email to pureair@bauer-kompressoren.de to get an attractive starter kit free of charge, including GOLD and SILVER certificates, shop stickers with annual plaque for dive shops, posters, brochures and merchandise items (while stocks last).
1 Residual oil measurement based only on volatile hydrocarbons (VOCs). Sensor calibration based on isobutene.


BAUER KOMPRESSOREN GmbH
Stäblistr. 8
81477 Munich, Germany
Tel.:
+49 (0) 89 / 78049 – 0
Fax:
+49 (0) 89 / 78049 – 167
E-Mail:
info

@

bauer-kompressoren

.

de