News 2017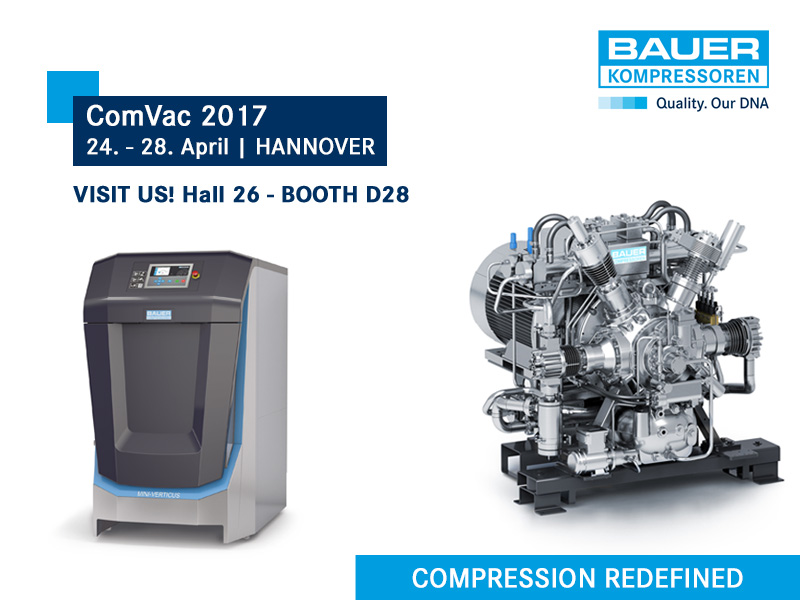 Munich, March 30, 2017
BAUER at ComVac / Hannover Messe 2017
The new BK 26 – An outstanding compressor just got even better
The new BK 26 features even sleeker, more streamlined dimensions and outstandingly smooth operation; vibration and pulsation are now virtually undetectable. The improved design of the high-pressure lubrication unit allows the system to be used at extreme angles of up to 30° (roll/pitch), in situations such as on board ships. The heat exchanger has been relocated, enabling the new compact compressor to fit horizontally into most ISO containers. With low oil consumption and low-maintenance operation, the BK 26 is also an ideal choice for continuous operation under challenging conditions, offering exceptional cost-effectiveness and low total costs of ownership (TCO). With an outstanding continuous operation characteristics, the new BK 26 is ideal for mission-critical applications requiring 24/7 operation.
Compression redefined: The new MINI-VERTICUS & VERTICUS Series
The new MINI-VERTICUS & VERTICUS Series set the standards of the future for stationary high-pressure compressor systems. They combine the quality and reliability of their predecessors with an all-new design, significantly quieter operation and the option of connecting the system to a smartphone with the B-APP. B-DETECTION – the new smart high-precision integrated online gas measurement system – monitors compliance with defined toxin limit values in air and gas around the clock, and shuts down the system automatically in case of doubt. The new products offer unparalleled ergonomic and user-friendly design. Although ultra-compact, the new MINI-VERTICUS makes the most of the new system's advantages; numerous accessory models from the larger VERTICUS series, such as the B-CONTROL II control unit, are now also available for the smaller series.
The new compressors are designed for compression of air, nitrogen and – as gas-tight models – rare gases; they can also be supplied as intake pressure booster systems.
And: One more unit… !
The slogan MAXIMUM CAPACITY @ MINUMUM FOOTPRINT heralds a further brand-new system, which will be unveiled at the trade show as a surprise:



BAUER KOMPRESSOREN GmbH
Stäblistr. 8
81477 Munich, Germany
Tel.:
+49 (0) 89 / 78049 – 0
Fax:
+49 (0) 89 / 78049 – 167
E-Mail:
info

@

bauer-kompressoren

.

de