News 2017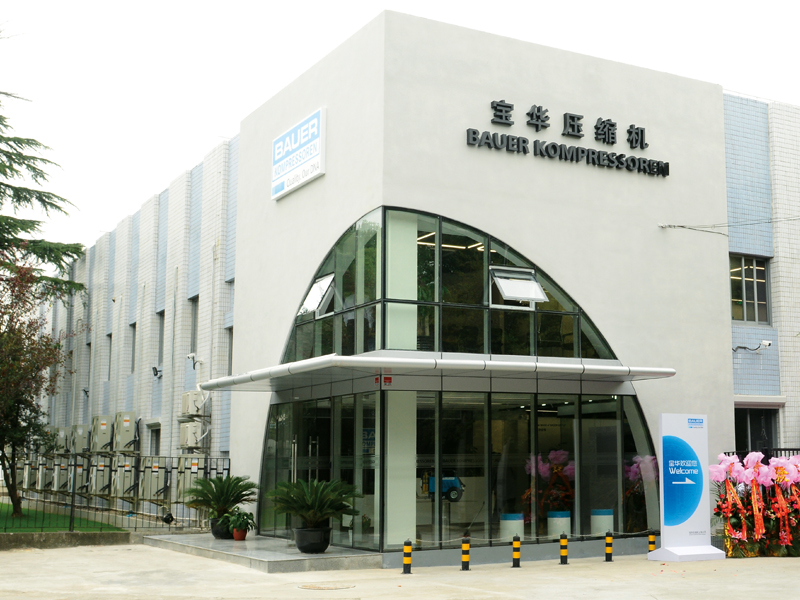 Munich, July 21, 2017
BAUER CHINA - STRONG GROWTH THANKS TO NEW FACTORY
BAUER CHINA in Shanghai has gone from strength to strength since its foundation in 2008. The original premises had an area of 1,200 square metres and were desig­ned purely as a sales office. However, customers had high expectations of BAUER KOMPRESSOREN as a premium manufacturer, and the company was faced with the need to expand its workforce in the areas of design, quality ­management, marketing and training in order to ensure rapid local supply of the tailored solutions demanded by its ever-growing customer base.
The expansion measures were re­warded by doubled sales; the headcount at BAUER CHINA quickly rose to 70 in the years following its establishment, while the number of partners like­wise grew to 33. After this growth spurt, the premises were bursting at the seams and the decision was taken to find a new location.
Success in this venture was reported in July 2016, when a suitable 5,200-square-metre site for long-term rent was found in the SMUDC Minhang business complex. The new location fulfils all the criteria, including the capacity to store 40-ft containers. With these new capacity reserves, BAUER CHINA is now excellently prepared to tackle new challenges on the market and embrace growth perspectives in the future.
BAUER KOMPRESSOREN GmbH
Stäblistr. 8
81477 Munich, Germany
Tel.:
+49 (0) 89 / 78049 – 0
Fax:
+49 (0) 89 / 78049 – 167
E-Mail:
info

@

bauer-kompressoren

.

de