News 2014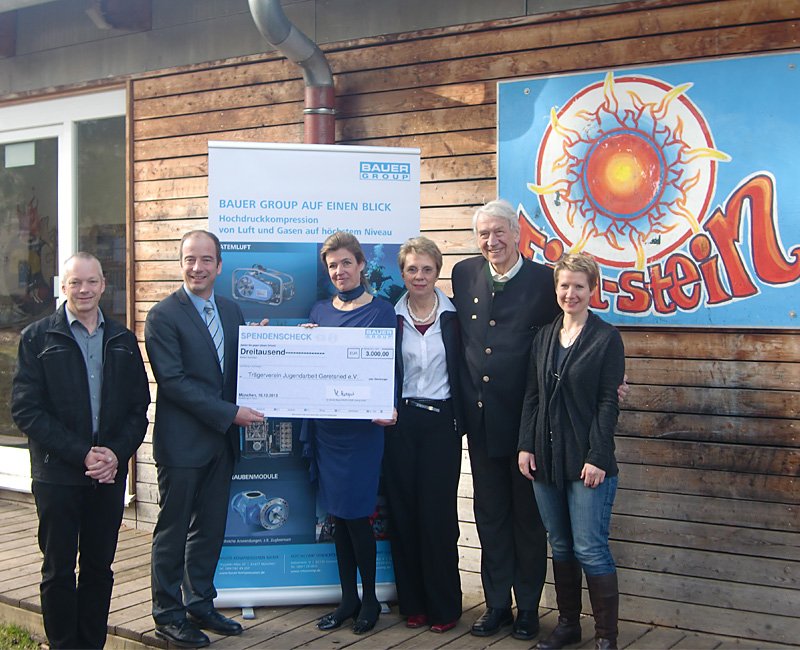 Munich, February 19, 2014
Charity donation to "Einsteiger!" youth project
Geretsried. Dr. Monika Bayat officially handed over a cheque as a donation to the "Einsteiger!" youth project to supporting association Jugendarbeit Geretsried e.V. on 17 February on behalf of the BAUER GROUP.
The project in the "Einstein" young project is intended to provide space for leisure activities for six to 11 year olds and their parents. The idea of the project is to offer young people positive outlets with sporting, creative and musical opportunities.
Dr. Monika Bayat described the reasons for supporting the common use association when handing over the donation in the sum of 3000 euros: "As a family company with the two key companies of UNICCOMP GmbH and BAUER KOMPRESSOREN GmbH in Geretsried, we feel it is especially fitting for us to support this important youth project in Geretsried. In the age group of six to eleven years in particular, the supporting association plays an important role in preventative youth work", said Bayat. "With tailored measures, young people are encouraged in a focussed way in line with their personality. As a mother of three children, my family and I are aware of how important it is to encourage children in this age group especially."
The donation will allow supporting association Jugendarbeit Geretsried e.V. (TGVA) to continue the work of the project that began in Autumn 2013.
BAUER KOMPRESSOREN GmbH
Stäblistr. 8
81477 Munich, Germany
Tel.:
+49 (0) 89 / 78049 – 0
Fax:
+49 (0) 89 / 78049 – 167
E-Mail:
info

@

bauer-kompressoren

.

de