MINI-VERTICUS - the concept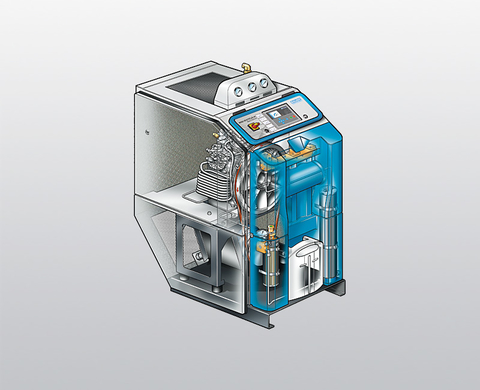 Powerful compressor units which impress with compact design, small footprint and very low maintenance requirements.
All control elements that are important for everyday operation are ergonomically arranged and easily accessible from the front.
The user interface of the B-CONTROL compressor control is positioned at a comfortable operating height and is mounted on an inclined surface to improve readability.
The final separator and the optional filter system are integrated in the front area of the compressor unit. To optimise the filter service life, fresh cooling air flows around the final separator and filter system. Furthermore, the housing serves as protection both for the systems and the operator.

The filter cartridges can be changed ergonomically from the front of the compressor. The top lightweight cladding can be opened for quick and easy access. A pressure gauge which displays the pressure, the bleed valve for the filter housing and the relevant tool are also located here, making it easier to change the filter cartridge.
MINI-VERTICUS and VERTICUS have different dimensions and power ranges. VERTICUS is suitable for the power range from 11 to 15 kW. MINI-VERTICUS is more compact and is available for motor powers up to 7.5 kW.

Proven BAUER quality redesigned on a shared platform concept.