B-CONTROL II compressor control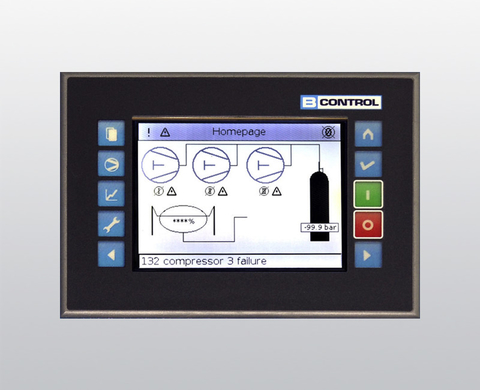 The advanced version of the proven B-CONTROL MICRO compressor control.
The B-CONTROL II features a 5.7" colour touch screen display with 10 direct selection keys. Interaction between user and control is user-friendly and logical. The information on the display can be read off in clear text. Various languages are available for selection.
As well as supporting the control and monitoring of important system functions, the B-CONTROL II also features additional user-friendly features such as a data logger, USB port and accessible interfaces such as Modbus, CAN Bus or Profibus. It can even be used for integrated control of an interconnected system with up to four compressors.
The B-CONTROL II can be customised and expanded to meet your individual requirements – including control of end-to-end system sequences.
For detailed information about the B-CONTROL II fully automatic compressor control, click here