HIGH PRESSURE MODULE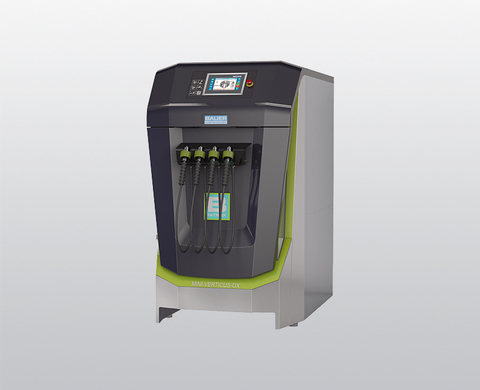 The high-pressure compressor, which is optimised for compression up to nitrox EAN 40, can be relied upon for cost-effective and safe operation.
Extensive tests are required due to the high safety standards governing the compression of gases enriched with oxygen. All materials used in the unit that come into direct contact with the gas must demonstrate that they are harmless under the strictest TÜV criteria and defined test procedures.
These tests ensure that the nitrox mixture generated by the oxygen membrane with a maximum oxygen content of 40% can be compressed safely in the downstream high-pressure compressor.
In the B-TROX unit, a 4-stage compressor block is installed inside the HIGH PRESSURE MODULE. This ensures that the heat produced during the process of compression is distributed across all four stages, promoting effective cooling.
The star-shaped arrangement of the compressor stages optimises smooth running and increases efficiency. The free-standing cylinders are easy to access and maintain. Furthermore, they are ideally positioned in the cooling air flow.
For increased safety, the temperature is monitored by temperature sensors located directly in the gas flow and at each compressor stage. If the maximum permissible temperature specified by the TÜV is exceeded, the unit shuts down automatically and the system is ventilated.
The intercoolers and aftercoolers are manufactured from stainless steel for increased resistance under the harshest of application conditions.
Furthermore, plasma nitriding maximises the resistance of the cylinder surfaces to wear. Plasma nitriding is a complex manufacturing process during which the insides of the cylinders are coated with a hard layer of nitrite.
The honed surface, which is essential for optimum unit lubrication, is retained in the long term. The piston rings benefit from an ideal running surface. The multi-level plateau honing of the cylinders enables the lubrication oil to adhere to the insides of the cylinders more effectively. As a result, the running characteristics of the pistons improve and wear is minimised.
The specific dimensioning of all of the bearings in the block, the ball bearings, journal bearings and needle bearings of the piston rod maximise the service life of the cylinder blocks.
The use of piston rings made from incredibly hard-wearing specialist plastic in the final stage safeguards resistance to high temperatures and reduces oil consumption.
The dynamic weighting of the driving gear makes for extremely balanced, smooth and low-vibration running, prolonging the service life of the unit and facilitating installation without the need for a foundation to be built.