Industrial Mechanic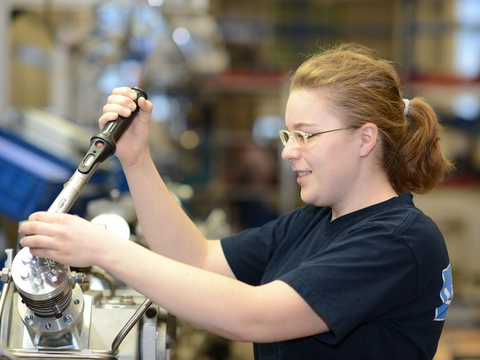 Training duration
3.5 years
Training takes place at the company training sites and at vocational college.
Field of work
Industrial Mechanics are deployed in the manufacture, maintenance and monitoring of technical/mechanical systems. They are active in the creation, modification and commissioning of production systems. Typical applications include installation, maintenance, service, installation construction on site by customers at home and abroad for installation, commissioning and maintenance of our machines and equipment.
Professional skills
perform their activities autonomously in accordance with the relevant regulations and safety provisions, coordinate their work with upstream and downstream operations, work as part of a team,
set up workstations,
organise production or manufacturing processes and control them,
communicate with internal and external customers in accordance with the situation,
control and document maintenance and assembly work, taking into account operational quality management systems,
manufacture components and assemblies and assemble them to form technical systems,
identify faults and their causes in technical systems and document them,
repair technical systems,
upgrade machinery and systems,
perform maintenance and inspections,
select test methods and test material,
hand over technical systems and products to customers and instruct them in the use of the system,
ensure the operability of technical systems,
review and enhance electrical components of the control technology,
consider business processes and apply quality management in the operational area.