Electronics Engineer in Automation Technology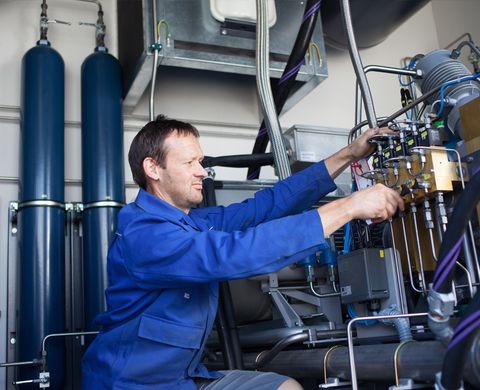 Training duration
3.5 years
Training takes place at the company training sites and at vocational college.
Field of work
As an electronics engineer in automation technology you learn both how to wire and commission switchgear cabinets as well as the how to install and assemble our systems.

The user programming and development of device-specific application software of our high-pressure compressor and/or high pressure compressor plants and systems may represent subsequent applications.
Professional skills
maintain automation systems,
analyse functional relationships and processes,
design modifications and enhancements of automation systems,
install and configure pneumatic or hydraulic and electrical drive systems,
install, adjust, configure and parameterise sensor and actuator assemblies as well as electrical control and control engineering assemblies,
programming automation systems,
install, configure and parametrise components and devices, operating systems, bus systems and networks,
use application programs for data acquisition, transmission and processing and for manufacturing, machine and process control,
connect components to complex automation systems and integrate them into higher-level systems,
hand over systems/equipment to users and instruct them in operation,
monitor, maintain and operate plants,
carry out regular inspections,
optimise control loops, analyse faults using test software and diagnostic systems,
maintain and repair equipment and systems,
are qualified electricians in accordance with the accident prevention regulations.